Judy Mosteller
Executive Assistant to the Dean
Georgia Baptist College of Nursing of Mercer University
3001 Mercer University Drive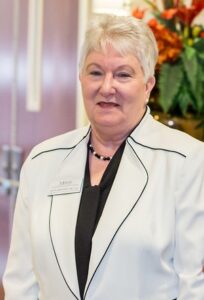 Atlanta, GA 30341
Office No: (678) 547-6793
Office FAX: (678) 547-6796
E-mail: Mosteller_J@mercer.edu
Ms. Mosteller earned her Certified Administrative Professional (CAP) certification from the International Association of Administrative Professionals.  Prior to her current position she was Secretary to the Superintendent of Houston County Schools in Dothan, Alabama for more than 18 years.
As Executive Assistant to the Dean of Georgia Baptist College of Nursing, Judy is responsible for numerous day-to-day activities in the College including monitoring the budget.
Outside of work Judy enjoys spending time with her husband, Don, and traveling.  She also enjoys spending time with her many family members, including grandchildren and great-grandchildren in Alabama.